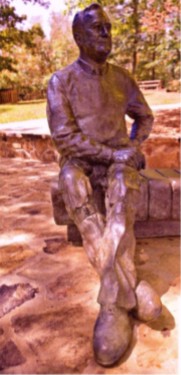 37 miles north of Columbus Georgia is Pine Mountain, the location of Callaway Gardens and Franklin D. Roosevelt State Park. Callaway Gardens is one of Georgia's most treasured destinations. Developed to promote an appreciation of nature, it features 14,000 acres of land that was once depleted by cotton farming. Now that same land has been transformed into beautiful gardens, hiking trails, biking paths, winding roads, lakes and a Championship Golf Course. A highlight of the property is the Cecil B. Day Butterfly Center where thousands of butterflies and hummingbirds fly freely. In fair weather, Soaring Eagle Glider Rides provide views of the gardens from a glider.
FDR State Park is Georgia's largest state park. A highlight of the park is Dowdell's Knob, President Roosevelt's favorite picnic spot. A life-size statue of President Roosevelt marks his favorite spot. The park also features a bell shaped swimming pool, camping spots and the 23-mile Pine Mountain trail. Roosevelt Riding Stables provides wagon rides, horseback rides through FDR State Park as well as overnight excursions along the trails of the park.
Other Pine Mountain attractions include Butts Mill Farm featuring gristmills, a covered bridge, pony and horseback rides, swimming, water slides and a miniature golf course. Llewellin's Point Hunting Preserve features quail, pheasant and chukar hunting.